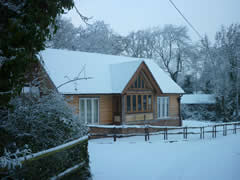 We take bookings on an individual basis and would like to invite you to stay with us.

As such, we aim to provide as flexible an arrangement as possible - there's no set Friday changeover for instance, or the requirement that you pay for a full seven days if staying for less time.

Bed linen and towels are provided.

As a guide, a 50% deposit is required as confirmation of your booking with the balance paid on arrival.
Rates
Wren cottage from £60 pp/pn. Discounts for stays exceeding seven nights.

Horses £30 per horse per night.

Dogs £10 per horse per night.

Riding lesson/schooling of your horse from £45.

Sadly we cannot offer riding lessons on our own horses but we can recommend riding centres nearby.
Hook up/Camping also possible for those wishing to stay in their own horsebox or brave camping (basic toilet/shower facilities available besdie the stables).

Please ensure your horse is in an established worming regime prior to arrival and that you bring your own hay, feed, feed bowl, haynet and water buckets. It should be possible to purchase extra bedding and haylage from Anna with Moles Country stores less than one mile away.
Advice

We will take every step to ensure you have an enjoyable and safe stay with us, but accept no liability for any events, damage, loss or injury, during your stay.

All we ask in return is that you respect that this is a working competition yard and therefore Anna may not be immediately available.

Also, on occasion, the horses may be brought in or out of the yard, the horsebox started up before dawn, and typical services like the delivery of feed, or arrival of pupils for lessons may hamper your access.

When staying at Wren cottage, please use common sense around the horses and if we have to request that you put your dog inside for a few minutes, for instance, it will be for his safety.

Looking forward to your visit.