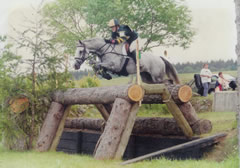 Whether you'd like to mix a lesson with your New Forest hacking or arrange a bespoke training package, Anna will hope to exceed your expectations.

Gaining a reputation as a coach to riders of all ages and experiences, Anna aims to help her pupils create a better partnership with their horse.

Stayng at Pippins cottage has proved popular for riders wishing to use the experience to bond with a new horse, build in confidence or to polish up a partnership ahead of a competition.

Having individual lessons, training is taken at your pace with flatwork, gridwork and courses practiced while it may be possible to hire a suitable cross-country course or develop a feel for a controlled canter or gallop out on the forest.

Anna's experiences as a trainer are born from her first love of eventing.

At 13, Anna Bruce, rode her pony, Jenny, in a one-day-event and literally found her heaven-on-earth, despite nearly falling in the 'coffin' fence.
Since then she has honed her skills, receiving help and advice from international riders and trainers such as event riders Lucinda and Clayton Fredericks, dressage guru, Jenny Loriston-Clarke and show jumper, Tony Newbury.
On the ground, Anna has worked with riders at the highest level of the sport – at Badminton, Burghley and with the British team at European Championship level.


And, Anna has gone on to produce her own horses from youngsters to the highest level of national eventing (Advanced), also taking part in international competition.
Alongside her own eventing pursuits and
writing career
, Anna is passionate about inspiring others entering into the sport.
She teaches riders of all ages and ability, helping them conquer their fears and achieve their dreams – whether that be a red rosette or enjoying a carefree ride.
Anna trained the Nova Foresta riding club, encouraging them to compete in area trials – all the teams reaching the National Championships.
She has acted as chef d'equipe for England teams and, willingly imparts her knowledge of fitness, horse welfare and general care.
Anna has also helped a number of pupils training for their BHS exams (she holds the BHSAI qualification).
And Anna has also helped other young riders to make a successful first step into competitive riding, sourcing and/or training top quality ponies and horses that have gone on to win in county showing, eventing, dressage and show jumping as suits.
Most importantly, Anna believes training should be affordable, so that people do not let cost considerations lead them to lose confidence when they should ask for help.
You can take advantage of Anna's expertise booking lessons during your stay or, if you live locally, give her a call to join her regular training sessions.